My Afro…ness and Ballet
My Afro…ness and Ballet
I am reflecting back on my journey through the world of dance and yes I have experienced micro aggression and prejudice in the studio.
So my entire life, has been pretty much evolved around dance, performing and costumesss 😀 My mother and aunt took me to my first dance class when I was 4. I began Ballet, Tap and Latin and of course at the tender age of 4 you are not going to be aware of racism or any form of discrimination. It's only as you grow older you learn more and experience more, is when society shapes you. You slowly come to terms with your identity and acknowledge the racial stereotypes attached to it.
From a young age I was subconsciously aware of those negative annotations associated with me as a black girl both within and outside the studio. This caused me to anticipate certain reactions and internalise racism.
As many say 'children can't see colour'…I say top ya noise. That is a lie, (of course I am not speaking on behalf of all). Besides seeing colour isn't always negative, but I will elaborate this in another blog. Anyway, marganislied groups who are consistently 'othered' are made to feel that their differences are inferior. Which in turn reflects through their self-esteem and how they think and feel about themselves. I guess that explains why at some point during my young training days I began to feel unworthy enough to be a ballerina.
In my personal experience what I find painful is the systematic conditioning, underlying racial attitudes and the lack of key representation, that many are oblivious to. Overtime this develops unconscious attitudes and behaviours about yourself, your ability, your worth. While others develop this preconceived notion of ones behaviour. In other words "Oh black girls are difficult to work with, too argumentative". As I overheard dancers preparing for their choreography choosing dancers. I felt like I didn't belong in class, like I was a pest.
Why was everyone kicking up a fuss over my hair?

Ballet technique class
Believe this never stopped me from pursuing my dreams in dance. I continued to train. During college in preparation for many performances and exams, I still continued to worry about how my hair would be styled more than being worried about the choreography itself. My hair was relaxed by this time and one time I got a weave done so it was manageable, less time consuming and simple! But STILL that wasn't enough. I was questioned, 'Tay how will you cope with your hair for the show', can you manage?' I felt so confused and humilated that 1) I was treated as though I had a long-term illness. And 2) They made a public announcement in front of the entire class about my somewhat untamed hair. I felt so exposed. Isn't it just hair? Because if it is JUST hair then why oh why was I singled out?
As I share a fraction of my experience regarding Afro hair in the studio, I can honestly say over the years I studied more to understand the level of ignorance and how institutionalised racism shaped everyone's perception of me.
I began to reminisce the my young days when I cherished dancing around freely left, right and centre and taking home medals; (primary school days) and making new friends. I was talented and confident. During Ballet classes our hair is expected to be neat, tied back in a slick bun, especially for exams. That wasn't the problem the problem I had was feeling embarrassed that mine was not as slick back but seemed 'messy' at the edges. My mother did a good job oh ensuring my hair is beautiful. Just the way it is.
Your skin colour does not determine the level of talent or expertise you have. You are who you are!
On the bright side there were days where I would stare in awe at the new dancer who resembled me. She was a lot older than me, on pointe, tall, with beautiful glossy 4c hair. The way she swiftly leaped across the spacious dance floor and effortlessly held her arabesque, oh I couldn't wait to reach HER level..just because. I would jump for joy for the 1 or 2 black girls who joined my class. I would stare at them dead straight in the eyes, in disbelief that more girls like me joined the class. How sad right? I hadn't even reached high school yet… But despite that, they were indeed TALENTED! They were keen, passionate with a bag full of tricks. Oh and natural, naturally beautiful. When it was my time to go on pointe (just like her), I got my first pointe shoes. Boy I will never forget. 15 years later I've still kept hold of them. Believe me,
representation truly matters!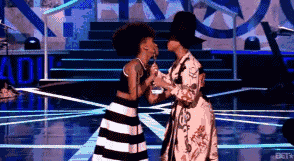 Are you a dancer of colour? What have you experienced in the dance studio in terms of discrimination? What's your advice to young aspiring dancers?
Like my blogs? Subscribe for unqiue weekly blogs
Read up on my past relative blogs on Black Beauty and my Poem as a young dancer.
Blessings
Tay